PRECISION TANDEMS GARAGE SALE
ORDER BY EMAIL - SEND NAME, ADDRESS & PHONE
SAVE TIME & MONEY- PAY INSTANTLY FROM CHECKING
ADD 4% FOR VISA OR MC USE
WE EMAIL A SIMPLE & FREE QUICKBOOKS PAY REQUEST
(SECURE THROUGH THE TURBOTAX & QUICKBOOKS PEOPLE)
FREE FEDEX ON $200 OR MORE ORDERS
SALES ARE FINAL
SPREAD THE WORD! ADDITIONS, INCLUDING TANDEMS, ADDED HOURLY AT TIMES! WE ARE SERIOUSLY MOVING STUFF OUT!!!!
35% OFF! COMPARE TO $770!
LIKE GETTING THE REAR HUB AT A SALE PRICE + A FREE FRONT HUB!
$499.00 Phil Wood 48 hole Tandem Hubset, Disc brake rear, 145mm spacing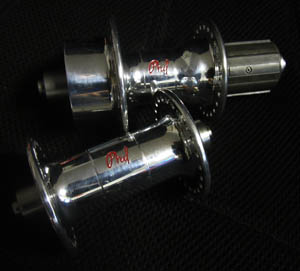 45% OFF! COMPARE TO $999!
$549.00 Rolf Prima Vigor Single bike Wheelset - Campy or Shimano 10sp
42% OFF! COMPARE TO $24!
$14.00 COZY-FEET
Made in Sweden by a company that specializes in heated mirrors
on high dollar autos as well as heated motorcycle & snowmobile grips.
Adhesive backed thin polyester heating element
Shock Proof
98 degree temperature
Requires 2 AA batteries per insole
23% OFF! MSRP $429
$329.00 Zanier Heated Mittens
Ladies Medium, Ladies Large, & Men's Large Only at this price
Other sizes - $329 with free shipping
ZANIER HEATED MITTENS WITH THE LATEST HEATING SYSTEM TECHNOLOGY
Li-Ion Dual Batteries - Small lightweight 60g, rechargeable, & hidden away
Global Charger - U.S. and Euro adapters included
External Button Temperature Control
GORE-TEX
Goatskin leather palm
Approximate Time Guide

Setting
Max
Temp
roximate
Duration Range
1

37C/99F**

8-10 hrs

2*

45C/113F**
4-5 hrs
3

62C/144F**

2-2.5 hrs
THIS IS ONLY THE BEGINNING. CHECK BACK, ALL THE TIME!