Courtney age 6 & Natalie nearly 4 (back in the day!)
wearing Ultra headsets included with system

Can the system be used with two single bikes or with a tandem?
Yes! The system is capable of going up to 1/4 mile under ideal conditions. Riding with a full duplex system (two live channels) permits normal conversation as if you were sitting next to each other. There are no buttons to push as on a walkie-talkie thus you will enjoy increased safety and enhanced communication whether on a tandem or singles. Think of the increased safety when riding with children on the trail or road by being able to guide and coach them.
CLICK HERE for a picture of a child riding riding a single bike.

Why is the Ultra Headset so comfortable?
The small speaker sits outside of the ear and there is NO earbud in contact with the sensitive tissue in or around the auditory canal . The headset remains in place via a simple loop that goes behind the head and placed over the ears. The Ultimate Headsets have cords made to our specifications thus vastly improving ease of use, comfort, cord durability, and cord length issues.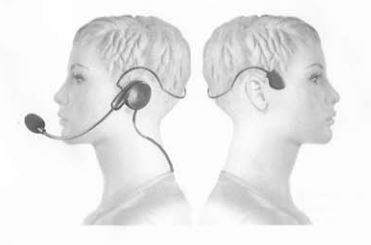 Will the Ultra Headset block out normal hearing?
No. The external speaker design does not seal off the auditory canal. You will hear ambient traffic sounds and be able to carry on a conversation with a rider next to you without difficulty unlike ear bud type headsets. And if you think about it, traffic approaching from the rear is heard by both ears.

Is riding in the rain a concern?
We suggest carrying a Ziploc bag in case of a true downpour to provide protection for the entire system. Excessive moisture from a soaking rain may be a problem for any electronics despite advertised claims. Common sense will go a long way here.

Does the Tandem-Com Digital Wireless III have a warranty?
The Tandem-Com Wireless and the Ultra Headsets are guaranteed to be free from defects in materials and workmanship for 90 days from the date of purchase. Reliability has been excellent.

Can two people talk at the same time?
Yes! Even up to 5 people can talk at the same time!

Will the Tandem-Com Wireless interfere with other wireless devices on my bicycle?
It is possible but have no reports of issues. The digital Wireless system uses 2.4GHz technology so you may want to check to see if other devices for use on the same frequency.

Can three or four more radios be used at the same time?
Yes! .....up to 5 radios.



Will others with a Tandem-Com Digital Wireless hear us?
This should not happen resultant of the automatic pairing of the Master with your own system.